It's been two weeks since Food Wine Conference and I am still on a high from all the unique workshops, fun, new friends and the fabulous FOOD! Isabel Laessig puts together one heck of an event. You can tell the heart and soul she and her team pour into this conference. This was my first year attending and one of my besties Emily Ellyn has been trying to get me to come to the conference for the last couple of years. Due to scheduling conflicts I wasn't able to, but this year I was a Brand Ambassador and I am so happy that I finally was able to attend. There was so much going on that its very difficult to write it all in one post so here are some of my favorite highlights from the conference.
The food and wine during this conference were plentiful! The first night we were greeted with a glass of refreshing CK Mondavi and then treated to spa treatments with Florida Milk. I made a yogurt face mask and then headed into Florida Strawberry Growers Association Berry Welcome Reception for sweet treats of cupcakes and milkshakes. Dinner was a Taste of Rosen Shingle Creek and the dishes they created were delightful.
The next morning we kicked off the day with Keynote Speaker Donatella Arpaia. She was a powerhouse of keeping it real…  "Finding your voice" |"Stay hungry" |"Be true to yourself".  I love hearing the stories and struggles of someone who worked so hard to achieve their goal and how they had to push to get their voice heard.
A high point of the day came from listening to the panel called Producers Behind the Brand. The stories of farmers from beef, Cabot Cheese, potatoes, wine and fruit was very moving. For me personally supporting local farmers and businesses is very important. I am very passionate about this. These people work long and hard to provide quality and locally resourced products to support the local economy. Sustainability is everything and our future depends on it. They truly care and are socially responsible to spread the word. Know where your food comes from. Loved hearing them speak.
The next day was the workshops at UCF School of Hospitality.  This was so AWESOME! The lovely duo from Chez Us session on Moving Pictures: Video Workshop By Beef Checkoff was crazy informative and left me ready to hit the ground running with these amazingly quick recipe videos. This was so inspiring and here is the video that I made after utilizing the skills I learned from them. I need to use my iPhone more often, who knew?!
Mastering Your Grilling Skills by Certified Angus Beef with Chef Michael Ollier was too fun. He was great to listen to and I was able to learn some tricks on the grill. I already cooked up a smash burger with caramelized onions that I learned from his workshop. Plus we got to make a tasty spice rub to take home for more recipes!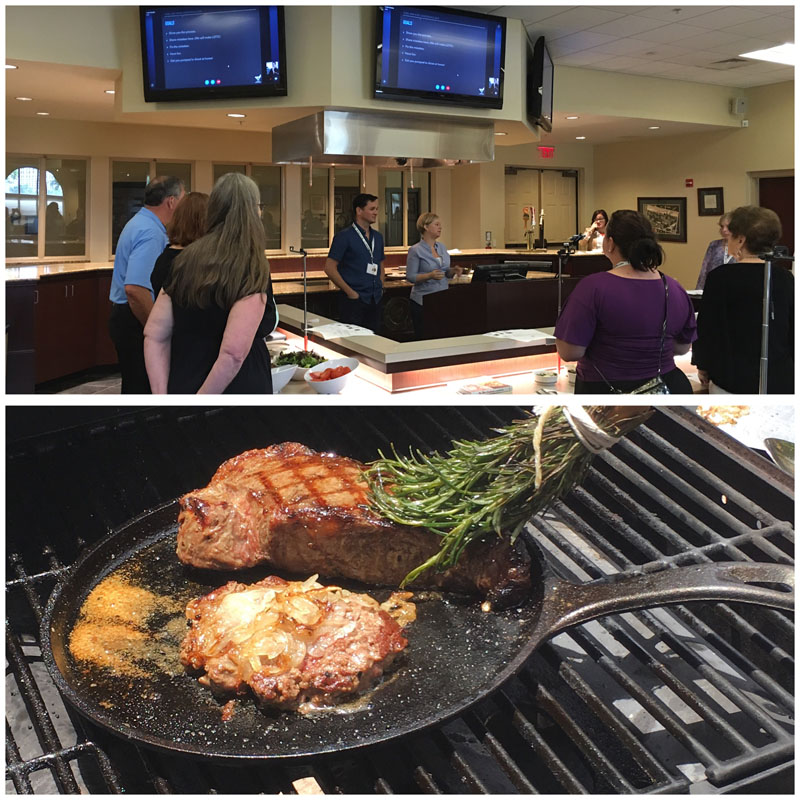 What makes this conference different from the others that I have attended is this… passion. Yes, swag, food and a beautiful venue are great but that is just the icing on the cake. When you leave a conference all rejuvenated and ready to take the food blogging world with reckless abandon = priceless. This conference will make you feel anew and get your creativity flowing like a river. You leave with new skills, new colleagues and a great connection with brands. I have already used some of what I learned from this conference in these last couple of weeks.
My writing and brain thank you Food Wine Conference Team for the jump start to more splendid happenings and opportunities. I have met some great people and got to reconnect with some old friends as well. I look forward to attending next year and hope you all will join me!
*I received a discounted ticket in exchange for my participation as a Brand Ambassador, all opinions are my own. 
Follow Food Wine Conference on Facebook, Twitter and Instagram to stay up-to-date.