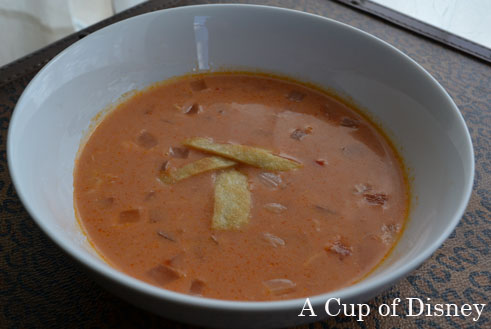 This recipe was featured on the Disney Parks Blog by Pam Brandon and is served at Fiddler, Fifer & Practical Café in Disney California Adventure. I made this soup for a fiesta we had for my husband. I should have made 2 more batches of it because it was gone! Our guests were scraping their bowls for more. Everyone liked the little kick of spice it had along with the creaminess of the sour cream. It was a hit!
Cheesy Enchilada Soup

Ingredients
5 yellow corn tortillas, cut into thin strips
1/4 cup vegetable oil, plus 2 tablespoons, divided
1 yellow onion, chopped
1 tablespoon finely chopped garlic
1 red bell pepper, chopped
1/2 cup corn
5 cups chicken stock
15-ounce can tomato puree
1/2 teaspoon coarse salt
1 1/4 teaspoons chili powder
1/4 teaspoon freshly ground black pepper
1 1/4 teaspoons sugar
3/4 teaspoon Tapatio hot sauce
1 teaspoon Worcestershire sauce
4 teaspoons flour
1/2 cup water
2 1/2 cups shredded cooked chicken
1/2 cup heavy cream
1/4 cup sour cream
1 cup shredded mild cheddar cheese
1/2 cup black beans, drained and rinsed
1/4 cup chopped fresh cilantro, for garnish
Directions
Heat 1/4 cup vegetable oil in a 10-inch skillet. When oil is hot, add tortilla strips and stir until golden and crisp, 2 to 3 minutes. Drain on paper towels and set aside.
Cook onion in remaining 2 tablespoons oil in a medium saucepan over medium heat until translucent. Add garlic, bell pepper and corn; cook for about 2 minutes.
Stir in chicken stock, tomato puree, salt, chili powder, pepper, sugar, hot sauce, and Worcestershire sauce; bring to a boil. Lower heat and simmer for 15 minutes.
Whisk flour and water in a small bowl and stir into soup. Bring to a boil, then simmer 4 minutes.
Add chicken and bring back to a simmer. Stir in cream, sour cream, shredded cheese, and black beans.
To serve, garnish with fried tortilla strips and cilantro.